General Meetings
Open to the Public
We normally meet the third Thursday of every month* at the Kilaga Springs Lodge, Sun City Lincoln Hills.
(*dates & locations subject to change, see below)
Fragrance Reminder
Please refrain from wearing perfumes, colognes, and scented body products when attending shows, concerts, trips, Association amenities, and activities. Many individuals have allergies exacerbated by scents. Thank you for your cooperation.
_______________________
2023 Meetings
Kilaga Springs Lodge, Sun City Lincoln Hills
6:30pm Social, Placer Room
7:00pm Meeting, Presentation Hall
(Exception: July 20, 2023)
January 19, Planned Parenthood
February 16, Sacramento Bee reporters Marcos Breton & Jack Ohman
March 16, Kerry Callahan, Superintendent Western Placer Unified School District
April 20, Alex Yarmolyuk, Ukraine War
Alex Yarmolyuk was born in the Southern part of the Ukraine, where he lived for 25 years. He finished his Bachelor of Arts in the Ukraine and served a mandatory two years in the Soviet Military in St. Petersburg in 1989-1991. His background and education give him unique experiences and knowledge. He works for Sierra College for 20 years and lecturing for OLLI program with topics about intercultural communication and Post-Soviet Union Countries issues.  When free, he bikes by American River or enjoys Sacramento Philharmonic concerts.
May 18, Dr Kenneth Moore - " Advantages of Electric Cars"
Dr. Kenneth Moore grew up in Oregon where he attended college before coming to Northern California to attend graduate school.  He received two masters degrees from Pacific School of Religion.  He continued his graduate studies at U.C. Davis and completed a doctorate at McCormick Theological Seminary in Chicago.  He served as a pastor of several churches in Northern California before accepting a call to serve 15 years as senior pastor of the First Christian Church of Helena, Montana.  From there he served as executive of the Christian Church in Nebraska and as administrator of Cotner College, in Lincoln, Nebraska for twelve years.  In retirement he served as executive of Interchurch Ministries of Nebraska and has taught various classes in history and the humanities for Osher Lifelong Learning programs at the University of Nebraska, U.C. Davis, and Sierra College.  He and his wife, Susan, live in Auburn near their son, who is a local attorney, and daughter and grandchildren  who live in the Bay Area.  He has a lifelong interest in cars and occasionally takes his vintage Austin Healey to nearby car shows,  and enjoys driving his electric BMW and hybrid Toyota Prius Prime.
July 20:  Summer Celebration with special guest, Betty Yee
Orchard Creek Ballroom, SCLH
Doors Open: 5 pm
Tickets: $45pp (click here to purchase)
Dinner: caesar salad, garlic bead, seasonal veggies, spaghetti and meatballs, vegetarian 3 cheese tortellini pesto and sun-dried tomatoes, chicken parmesan and a Lemon Berry Mascarpone cake.

Betty served as the California State Controller from 2015-2023 and currently serves as the Vice Chair of the California State Democratic Party. She has not officially launched her campaign as of this post, but she has confirmed she will be a candidate for governor in 2026.
August 17,  Jennifer Hanson, General Manager, Nevada Irrigation District
"Drought and water conservation here in Northern California" 
_________________________________________________
Recorded:
August 5, 2021 - Quite the wake-up call!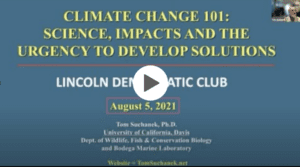 California State Controller & CADEM Vice Chair
Click picture for recording, then enter passcode:  2jX7+Y&Z