General Meeting Time and Date
We normally meet the third Thursday of every month at the Kilaga Springs Lodge, Sun City Lincoln Hills.  Our meetings are open to the public.
Until further notice, monthly meetings will be via ZOOM Video Conferencing.
Zoom login info will be sent by newsletter* prior to each meeting.
*You may sign up for our newsletter at the bottom (or sidebar) of every page.
_________________________________________________
Upcoming:
Thursday, December 16
Holiday Event
 Time: 5:00 PM
Where: Kilaga Springs Lodge
(across from Presentation Hall)
We have been able to reschedule our Lincoln Democratic Club dinner originally planned for October.
Attendance is limited to those who have prepaid.  If you can not attend, please let June Paquette know by Nov 17 and you will receive a full refund.  Those on the waiting list will then be contacted.
** Vaccination cards or QR codes will be checked at the door because this is now an indoor event!
menu will consist of Back Forty BarBQ beef brisket, chicken, garlic mashed potatoes, green salad, steamed veggies and rolls,
veggie burger option for those that made the request for October,
no host bar
_________________________________________________
Recorded:
Thursday, August 5  - Quite the wake-up call!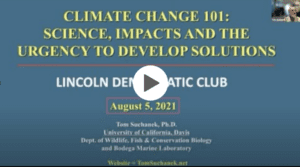 California State Controller & CADEM Vice Chair
Click picture for recording, then enter passcode:  2jX7+Y&Z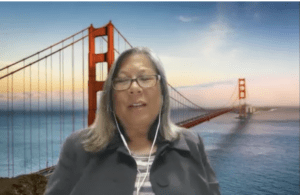 Thursday, November 18
Click picture for recording, then enter passcode: T6cZeV$3