General Meeting Time and Date
We normally meet the third Thursday of every month at the Kilaga Springs Lodge, Sun City Lincoln Hills.  Our meetings are open to the public.
All meetings start at 6:30PM with a social half hour
followed by the general
meeting and speaker 

at 7PM

.
Join us!
Fragrance Reminder
Please refrain from wearing perfumes, colognes, and scented body products when attending shows, concerts, trips, Association amenities, and activities. Many individuals have allergies exacerbated by scents. Thank you for your cooperation.
_________________________________________________
Upcoming:
September 15
David Loya, Director Strategic Initiatives, The Gathering Inn
David has extensive managerial experience in the non-profit sector and a record of success in getting initiatives off the ground and flourishing.
October 20
Midterm candidates: Jones, Alvord, Chenoweth, Villescaz 
November 10
Mike Luken, Placer County Transportation Planning Agency (PCTPA)

PCTPA is the forum for making decisions about the regional transportation system in Placer County. The decisions made are reflected in its planning and programming of the area's state and federal transportation funds.
_________________________________________________
Recorded:
August 5, 2021 - Quite the wake-up call!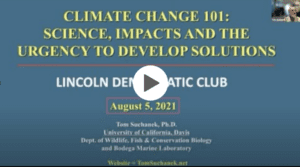 California State Controller & CADEM Vice Chair
Click picture for recording, then enter passcode:  2jX7+Y&Z